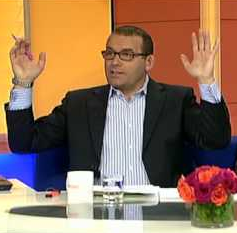 Mildly disgraced New Zealand television "presenter" Paul Henry, who resigned from his seven-year gig hosting the morning news show Breakfast last year after a racially insensitive—albeit amusing—riff about the surname of an Indian government minister, is getting a second chance in America.
A few days ago, production company Ish Entertainment quietly posted a "sizzle reel" online. Meanwhile, Ish founder Michael Hirschorn has been squiring Mr. Henry to meetings with agents and network brass in hopes of putting together a deal.
Mr. Henry has long been prone to overstepping the line, at least when it comes to the standards of morning TV (see, for example, "Moustache Gate"). But he always seemed to get away with it due to a certain lovable impishness. In fact, he won a (Kiwi version of the) People's Choice Award in 2009, then delivered an R-rated acceptance speech that racked up hundreds of thousands of views on YouTube.
Mr. Henry's luck ran out on October 10, 2010, after his mirthful exegesis on the name of Indian minister Sheila Dikshit led to an international incident, accusations of racism and some hasty diplomatic mopping-up by the New Zealand government. It didn't help that NZTV is a state-owned network.
Then again, what better resumé for a career in world's biggest market? (We hear Regis's job is open!)
If anyone can provide Mr. Henry a successful second act, it would seem to Mr. Hirschorn, the Atlantic Monthly columnist and former chief of programming at VH1. "The unacknowledged master" of "the high-low thing," as David Carr put it in a 2007 Observer profile, Mr. Hirschorn gave the world I Love the '80s, The Surreal Life and Rock of Love. And just look what he did with Flava Flav.
In a call with The Observer, Mr. Hirschorn, who's latest effort, a Bravo special based on New York's "Approval Matrix," airs on Wednesday at 11pm, talked up his new discovery. "He's a little bit unique, in the sense that he comes from halfway around the world, and essentially nobody's heard of him before," he said. But CAA has been circling, he added, and reactions from TV executives have been enthusiastic. "It's 'We love this guy. What can we do with him?'" Mr. Hirschorn said, while allowing that "in some cases there's also a certain level of fear."
About that fear factor: Mr. Hirschorn expressed confidence that Mr. Henry would be able to rein it in when necessary. "He was for ages New Zealand's top presenter," he pointed out, floating a theory that Mr. Henry's implosion may not have been altogether unplanned. "My suspicion is he was eager to get himself fired and probably bored out of his skull," he said.
Mr. Henry's plans are at the moment open-ended. "We're working with him on several fronts—the reality side, the talk-show side and the scripted side," Mr. Hirschorn said, citing The Larry Sanders Show and I'm Alan Partridge as models for a scripted Paul Henry series.
But the most likely scenario seems to be a talk show of some kind. "Paul intuitively understands what TV is and needs to be in 2011," Mr. Hirschorn said, "i.e., not the Today show circa 1992."