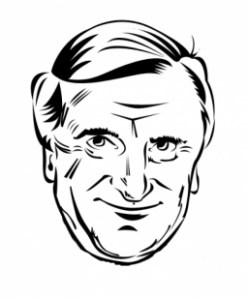 I promise you, Hank Aaron had never been so surprised in his life. On Saturday night, his wife, Billye, threw the Hall of Famer a surprise 77th birthday party for about 35 people in the Pool Room. Mr. Aaron was so surprised, in fact, that he thought the Secret Service who were standing outside for Bill Clinton were there for him! The former president arrived at around 6:45 p.m., and when he came into the Pool Room, some people started to applaud. He sat down, but he couldn't eat anything. Bill Clinton is a total vegan! Can you imagine? I have to say though, he looked very good-eating vegetables must be agreeing with him! In his toast, Mr. Clinton said that Hank Aaron is one of the greatest human beings who ever lived and that Mr. Aaron helped deliver Georgia to Mr. Clinton during the presidential election.
I don't think I've ever seen so many nice people in one room at the Four Seasons before! Governor Cuomo was here (the old one), Mayor Dinkins was here, Harry Belafonte. Actually, Mr. Aaron thought he and his wife were having an intimate dinner with Harry and Pamela Belafonte, just the four of them-little did he know!
Billye Aaron planned the whole thing, and it was one of the best parties I think we've ever had, but it was very low-key. No caviar or Champagne, just red and white wine, and instead of a fancy birthday cake, we had four plates of cotton candy. One for each table. It was perfect!
We also had a party for Mitt Romney earlier in the week. I have to say he was looking very presidential. But so was Jon Corzine, who was here on Monday morning giving a speech for the Urban League at a breakfast for 280 people.
Sofia Coppola came by last week, and I gave her a tour of the restaurant. She thinks it's one of the most beautiful places in New York so she just came to look around. She didn't eat lunch. She used to come eat here. What a great woman!
On Monday, Chuck Townsend and David Carey ate together, and Donald Marron lunched with Gianluigi Gabetti-the Italian superhero of the Agnelli fortune. Nearby, in the Grill, Lorraine Bracco-you know, the therapist in The Sopranos-had lunch with Jane Heller (Martha Stewart's banker, who took my cooking class last week). She was drinking my wine, and as she was leaving, she stopped to tell me how delicious she thought it was! I couldn't help it-I blushed!