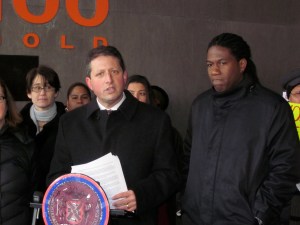 City council members Brad Lander and Jumaane Williams bashed plans that would allow upscale housing developers a three year extension on real estate taxes as they continue to build their projects in a news conference today in front of Housing Preservation and Development headquarters.
"We simply cannot afford to extend hundreds of millions in tax breaks to bail out luxury housing developments," Lander said.
The tax loophole, called 421-a, was initially established in the 1970s – "a very different time in New York history," Lander said- to spur development in the city. The law was reformed in 2006 by the city council, and changed by the state in 2007, and allowed developers to build luxury apartments and receive significant tax breaks.
That version of the law stipulated that the building plans had to have been approved June 2008, and building had to be completed by June 2011. The rule being put forth by the HPD proposes that the buildings need not be completed until June 2014.
The matter will be before HPD today at a public hearing.
One of the councilmember's biggest points of contention is that the city has yet to release any firm numbers on the project, including how much the tax cuts will cost the city in lost property revenue.
"We would just be foolish as a city to give this tax break before hearing the facts," Lander said.
It was reported this morning that the Independent Budget Office predicts that the tax break will cost the city $930 million in lost revenue in 2011. By comparison, the city lost $408 million in possible tax revenues in 2006.
Williams said the issue showed that the Mayor lacked attention to poorer New Yorkers.
"Which side is Mayor Bloomberg on?" he said. "He's proposing to give hundreds of millions of dollars to a handful of speculators and developers, who have blighted our communities and proposed to build only luxury housing. But he has not said one word in support of strengthening rent regulations for the three million New Yorkers who rely on them."
While many see the tax break as a way to encourage business, Williams does not see it the same way.
"Developers are not going to leave the city if they don't get their tax breaks," Williams added.
Council members Debi Rose, Charles Barron, Ydanis Rodriguez and Leticia James also support the push against the extension though were not in attendance at today's event.
Lander said that while the Real Estate Board of New York is lobbying the city and HPD for approval, they are also making their case to state legislators in Albany hoping to get approval on the state level as well.
"They're kind of double dipping," Lander said. "They're asking the city for this and if they don't get it they're asking the state for it."