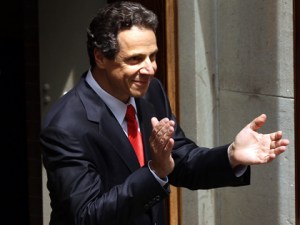 Governor Andrew Cuomo officially accepted a plan submitted by his Medicaid Redesign Team today that proposed a total of $2.3 billion in Medicaid savings for FY2011-12, half of which are tied to reform measures.
The task force is a 27-member team comprised of state legislators, agency officials, and representatives from organizations representing hospitals, patients, and healthcare practitioners. Cuomo charged them with finding the $2.85 billion in cuts to Medicaid that would be necessary for his proposed budget for fiscal year 2011-12 to work. This number was later reduced to $2.3 billion, and the team officially settled on a proposal today, a few days ahead of its March 1 target date.
The reform measure highlights include a cap on state Medicaid spending, limiting the total expenditures to four percent of annual growth. It also pushes "managed care," a system in which private companies provide care to Medicaid recipients in exchange for a set monthly payment from the state. The plan allows healthcare organizations to find room in their budgets to make their own cuts, and allows the government to intervene and make cuts if the savings don't materialize. Finally, it details a reform measure for New York's flawed medical malpractice insurance system.
These reforms would result in an estimated total of $1.14 billion in savings. Another $345 million would come from a two percent cut across the board in healthcare providers' rates.
Now that Cuomo's accepted it, the report will go through the state Senate and Assembly. In accepting the plan, the governor expressed the urgency of the task.
"What I would hope the Legislature does, is take this report and pass the budget and pass it within the time set by the law," he said, referring to the April 1 deadline. "Let's try to make the government work for the people. Let's try to bring function back to Albany."
The plan will be presented as an amendment to the already-submitted budget proposal.