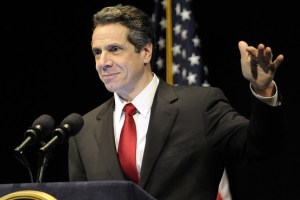 Governor Cuomo went on Talk 1300's Fred Dickers show today to discuss Medicaid reform and opposition from Assembly Democrats, saying the opponents of his reform plan just want to preserve the status quo.
A particular target was Richard Gottfried, the chairman of the Assembly Health Committee and a member of Cuomo's Medicaid Redesign task force. Gottfried abstained from voting on the task force's proposed reform package yesterday, and told the media last night that he had doubts about the plan's anticipated benefits, calling the savings estimates "way overly optimistic."
Reps from Cuomo's camp have already shot back at Gottfried, calling him "the protector of the Albany status quo and special interests." The governor acknowledged on the show that any major reform plan was bound to meet with resistance from parties who disliked change.
"This is a major change," Cuomo said. "This is change to the system that has been developed by this town, protected by this town, and invested in by this town. So yes, there's going to be opposition."
He added, "Dick Gottfried sat there year after year after year designing this program, and [we're] reforming the program that he designed."
Cuomo said that he didn't know whether Speaker Silver supported the reform package, or whether he is on a collision course with Assembly Democrats who will review the plan in the coming weeks.
"We're going to find out, because now the Assembly is going to get this as a 30-day amendment," he said. "Of course there are some groups, not everybody's happy, not everybody's happy with anything."