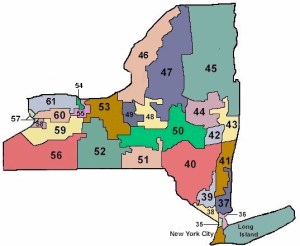 Andrew Cuomo unveiled this morning his plan to reform the way New York draws district lines for Congress, State Senate and Assembly seats.
Under the Cuomo proposal, the governor's office and the legislature would put forth nominations for a pool of candidates to serve on an independent redistricting commission, and then legislative leaders would choose members from the pool to serve on the commission. According to Cuomo's office, the commission will be selected with an eye toward geographic, racial, ethnic and gender diversity, and all members who serve must be four years removed from being a member of the legislature or Congress, a legislative or executive chamber emplouyee, a political party official or a registered lobbyist.
Skeptics of nonpartisan redistricting have fixated on what it means to be truly nonpartisan, and have expressed concern that legislative leaders will still figure out a way to game the system. Under the current system, however, lawmakers have virtually sole discretion to draw district lines as they see fit.
The commission will hold a series of public hearings on the drawing of lines, and must post on its website information concerning the plans under development. According to Cuomo's bill, that plan would then go before the legislature, who can accept or reject the plan without adding amendments. If they suggest changes, the commission can come back with a second plan that cannot be amended. If the commission's plan is rejected, they can come back to the legislature a third time and lawmakers can add amendments.
Cuomo laid out some guiding principles for the commission's work, including that "Districts shall not be drawn with an intent to favor or oppose any political party, any incumbent, or any previous or presumed candidate for office"
In years past lawmakers have rejected efforts to take the power to draw their own lines away from them, but this year–urged on by Ed Koch's NY Uprising–there may be the political will to finally reform the way districts are drawn in New York