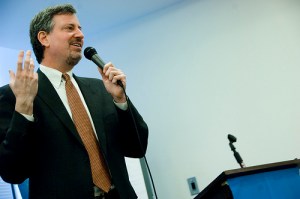 Public Advocate Bill de Blasio has released a Year One Action Report detailing de Blasio's successes in protecting elections, public school parents, and tenants during his first year in the position.
De Blasio, whose name is already being thrown around as a potential mayoral candidate for 2013, championed homelessness and public education as chief causes during his campaign for the watchdog position. The report details his initiatives to give parents of public school students a greater voice before school closures, help students who were failing under the newly adjusted state test score system, hold landlords who owed back fines accountable, and restore housing to Section 8 residents- among others.
"When New Yorkers actually get a chance to participate in the decisions of their government, we achieve better results for our city," de Blasio said. "Over the past year, operating on the leanest budget of any city agency, my office has provided forceful oversight of City Hall and given thousands of overlooked New Yorkers the help they needed."
That budget may get leaner soon: Bloomberg's recently released budget proposal would cut the public advocate's finances by 20%. De Blasio has publicly taken the Bloomberg administration to task, and also- unlike the mayor- spoken out in favor of Cuomo's budget proposal.
Full report below: