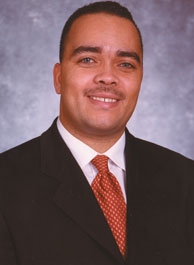 Erik Dilan said today that it would be "an honor to serve in the Assembly" and that he is seriously considering making a run for the Assembly seat soon to be vacated by Daryl Towns.
"Right now everything is still up in the air," Dilan told The Politicker's Jeremy White on the floor of the City Council before today's stated meeting. "Daryl Towns is still a sitting member."
Speculation has grown that Dilan will make a bid for the Towns seat since the city councilman will be term-limited in 2013 and he is believed to be the favored candidate of county leader Vito Lopez.
Towns announced last week that he was leaving the seat in the 54 AD which he has held since 1992 to become commissioner of the New York State Homes and Community Renewal under Gov. Andrew Cuomo.
Both Towns' sister and his wife have been mentioned as possible sucessors.
Lopez and the Towns family have often been on opposite sides of the political divide in Brooklyn, but Dilan seemed to suggest that he would yield to Towns' wishes on the seat, saying that he had spoken with the new state housing chief as recently as yesterday.
"I love where I am. I love the Council. And I intend to have a discussion with Darryl about who he would like to see as his future successor."