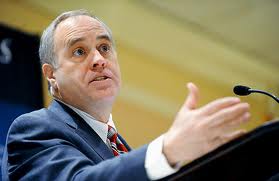 State comptroller Thomas DiNapoli released a report today saying that Governor Andrew Cuomo's budget proposal raises some red flags about a lack of details for some cuts and imprecise forecasts of incoming revenue.
The analysis applauds Cuomo for his emphasis on fiscal restraint and for his goal of closing the state's defict without significantly raising taxes. But it also sounds a note of caution about proposals to slice more than $4 billion out of Medicaid spending and state operations funding that do not not specify what will be cut. The critique echoes a common complaint from Albany legislators.
"Without knowing the details of many of the deficit-closing actions, it is difficult to determine if they will produce the projected savings," DiNapoli wrote. "With uncertainty comes risk."
DiNapoli also warned that estimates about the amount of personal income tax that will flow into state coffers may not be reliable. He noted that the current fiscal year's budget was overly optimistic about job growth and ended up over $1 billion short in anticipated tax revenue. The analysis names several other sources of revenue, such as cigarette taxes from sales from Native Americans and expansion of the state lottery, that may fall short of projections.
A copy of DiNapoli's budget review is available here.