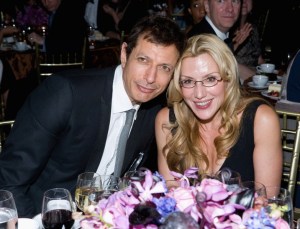 In a profile two years ago, The Observer wrote that Prudential Douglas Elliman agente di tutti agenti Dolly Lenz would win the firm's top broker award in perpetuity. "Just as it's been since Dottie Herman and Howard Lorber bought the company in 2003, and as it will be until the day onyx bathrooms and heated-floor kitchens all cease to exist, the award will go to Dolly Lenz."
Yet just as man once thought the world was flat, times change, the impossible becomes reality, and we walk on the moon.
A similarly earth-shattering event has taken place, as Lenz has relinquished her crown, albeit in exchange for an even higher honor: the newly created Stratosphere Award, of which she is the sole recipient. Now, Lenz will no longer be competing for the top honors she has owned for the past eight years and will instead have to content herself simply with this new prize.
In a release, Herman, Douglas Elliman's CEO, called her best agent, and arguably the best in the world, "peerless." Lenz, meanwhile, took a moment to demonstrate her equally peerless wit: "It feels like they're retiring my number; but seriously, I see plenty of talent in this company and I think it's important that they be given the opportunity to achieve the ultimate recognition for their efforts. It is my every intention to help this pool of talent thrive in this very competitive field."