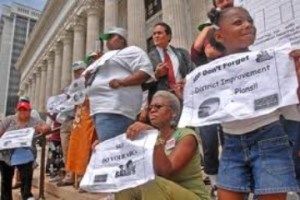 Statewide education coalition the Alliance for Quality Education has launched a contest that recruits New Yorkers to make videos protesting Andrew Cuomo's proposed cuts to education.
Contestants will compete for prizes that include an iPad or $1,000 in funding for education or local youth programs. In a video on AQE's website, communications director Nikki Jones suggested that people talk about their favorite teachers or subjects.
"It's important that Governor Cuomo hears directly from parents, students, teachers and community members about why school cuts hurt," Jones said. "Tell him exactly why your school can't take another round of huge budget cuts."
Cuomo's budget aims to slice $1.5 billion out of the state's education budget, with schools still reeling from last year's $1.4 billion reduction.