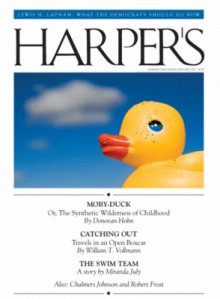 Donovan Hohn has left Harper's for GQ, where he will be a features editor.
"I've long admired GQ's journalistic storytelling and am excited to be headed there," Mr. Hohn told The Observer.
Mr. Hohn was a senior editor at Harper's, where he oversaw the Readings section for a time and later edited essays and journalism.
Mr. Hohn leaves in the wake of literary editor Ben Metcalf and Index editor Ted Ross's dismissals, which publisher John "Rick" McArthur attested were necessary layoffs (and over which he faced protestations from the literati).
Hypothetically, Mr. Hohn's departure could free up the payroll to re-hire one of them. Mr. McArthur reportedly turned down $50,000 in donations pledged to stave off editorial cut-backs. The Harper's Union is scheduled to re-enter contract negotiations in days.
kstoeffel@observer.com :: @kstoeffel