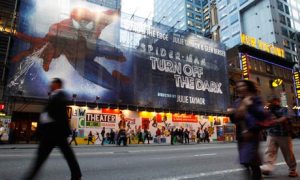 It's safe to say reviews of Spider-Man: Turn Off The Dark have been "mixed." The Observer found the much-maligned production — now on its 66th performance, all previews — to be visually striking but musically bland, a surprise given the pedigree of the composers (Bono and The Edge, in case you haven't heard).
But reviews aside, the production is first and foremost a capital-letter Cultural Event. The New York Times informs us that the massive Spider-Man hype makes it the most talked-about show in Broadway history, relegating the show itself to the sidelines.
The turning point may have been the New Yorker cover that hit newsstands last month, in which hospitalized Spideys nurse their stunt-gone-bad wounds. It was the first Broadway production to be featured on the magazine in 10 years.
"For our cover we always ask ourselves, would our one million readers know what we were making reference to?" Francoise Mouly, art editor at the magazine, told The Times. "But in no time at all, 'Spider-Man' has gotten enough notoriety that we knew the cover would make people laugh. Even the show's producers laughed; they've been hounding us to buy copies of the artwork."
Not every producer though! Director Julie Taymor, the Ahab to the show's Pequod, "looked queasy" after Joan Rivers asked about the injuries, and then walked away dismissively. Someone needs a sense of humor.
nfreeman at observer.com |@nfreeman1234
Click for Scandal Report: And Then The Model At Diddy's Party Burst Into Flames