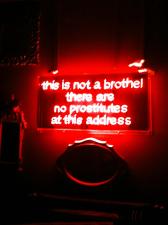 At all three parties The Observer attended Saturday night, we heard the usual refrains from the people guarding the door: "You're wasting your time;" "I can't help you tonight, sir;" "No" (our personal favorite). We got in anyway, of course.
There were two security guards outside the entrance to the Mondrian Hotel Saturday night for the Prabal Gurung after party. Publicists tried to bring guests inside, but the security guards blocked the entrance. "We are at capacity," one of them said sternly. "We will not let anyone else in," replied the other.
"But we want to be past capacity," a publicist said. "It's supposed to be crowded. It's a fucking fashion party."
The location of this "fucking fashion party" was Mister H, the new lounge opened by former Bungalow 8 doorman Armin Amiri. It has, like all good bars do, its fair share of personalized touches. For instance, a neon sign hung by the entrance that said, "This is not a brothel there are no prostitutes at this address."
No, presumably there were no ladies of the night in attendance, but Barbara Bush, the daughter of the former president, sat on a leather couch in the back talking intensely with a marketing executive from American Express. A row of publicists stood in front of her, pointing out the reporters in the room and telling Ms. Bush to be careful of what she said.
In the cab on the way to the next party, Prabal Gurung was on Taxi TV, talking about getting ready for Fashion Week. The Observer thought the video was irrelevant in light of recent events.
By the time The Observer arrived at Zac Posen's after party atop the dual-bared floor of The Standard, where the Boom Boom Room and Le Bain lure in Fashion Week revelers, it was a complete mess. The mouth of the Boom Boom Room was a massive crush, a gridlocked smattering of men and women dumping the contents of Champagne flutes down their throats, emanating perfume, casually lighting up cigarettes — Mr. Zahm was chaining them — and cheek-kissing the hordes of others if they got the few inches to do so as the crowd swayed collectively toward the ten-deep bar.
"It's like a fashion moshpit," Mark Hunter, better know as The Cobrasnake, told The Observer.
Indeed, while after parties have a mandate to do away with the orderliness of a runway show and thrive on a sort of calibrated chaos, they rarely reach this level of absolute clusterfuck.
Mr. Posen sat on a rail above the mob in a gray fitted suit, looking friendly, boyish, and surprisingly calm despite being at the center of all that chaos. He waved to guests, flashed a thumbs-up every now and then, and shook hands like a politician at a parade. The guests pushed against one another, remaining mostly stagnant by the bar.
"This is only my third time being here," Mr. Posen told The Observer, his voice struck by a hint of disbelief. He flashed his gaze around the room: Kanye West poked his head into Boom Boom, locked within a fortress of bodyguards, but eventually retreated to a dark nook in Le Bain where he might scowl in relative privacy. Mary-Kate and Ashley Olsen sat in prime real estate, a circle booth at the front-right with that stunning tapestry out the window as their backdrop. Jared Leto sat with them, too, in an ill-defined frock that looked like a mixture of a purple afghan with cartoon samurai armor. Or something. Paul Sevigny walked in hauling a metal box, presumably full of DJ gear, but then stepped aside to let the Misshapes run the show.
"It's so great," Mr. Posen said, again looking a bit awestruck. "I want to get back to work, draping, fitting. I'm waiting on a shipment of exotic skins," he smiled excitedly. "I need to be in my studio, draping women."
Even in this flash-heavy, celeb-studded party, Paz de la Huerta loomed over the proceedings. She was a six-foot force of nature wrapped inside silver piece of fabric cut barely into a dress, lips ruby red and hair strands falling over her face.
We caught up with her in the sliver of a smoking balcony wedged behind the DJ booth, where a glass floor makes literal the decline one takes when they leave The Standard.
In her slow coo she told us about her long relationship with Zac Posen.
"I was in seventh grade and he was in, like, tenth, and he thought I was something special," de la Huerta told The Observer and then took another drag of her cigarette. "And then my first runway show was with him, and um, uhhh, I think he's doing better than ever."
Paz, what was Zac Posen like in high school?
"In tenth grade he was very passionate," she said. "He had a drive like no other. I had a shaved head, not really shaved but short blond-bleached blond hair. I was in my punk rocker phase."
We corrected Paz — this punk rocker thing of hers is more than just a phase, we said.
"I'm punk rock for liiiiife," she said in agreement. "Oh, this is Gaspar Noé."
Paz introduced us to a stocky bald man with graying stubble. We informed the director that his film Enter the Void is one of our favorites. His next film, he said, will be a horror movie.
"We're gonna do another movie together, though," Paz de la Huerta said as she wrapped her arms around Mr. Noé's shoulders, planting those lips on his head.
"The time will come," Mr. Noé said.
Around the corner at the Jane Hotel, the evening's nightcap was prefaced with one guest's keen observation: "It smells like weed in here."
"Smells like teen spirit," someone responded.
Lame jokes aside, it did, in fact, smell like weed, and there were a large number of teenagers at the after party for United Bamboo, hosted by Dossier Journal. The members of LCD Soundsystem stood in the center of the room, guzzling champagne. James Murphy, a bit unsteady on his feet (it was now 2:30 in the morning), was dressed exactly how he appears on the cover of his most recent album, This is Happening.
LCD Soundsystem album art showed up elsewhere in the Jane Hotel, too: the enormous disco ball hogging the atmosphere has several of its panels gone or blacked out, making it a spitting-image of the one on the band's eponymous first album.
Murphy bowed out early, but members of Grizzly Bear, the Yeah Yeah Yeahs, and the oddly ubiquitous Aziz Ansari danced with the kids until well after 4:00 a.m., shut-down time, eventually commandeering the tall center table to dance as close to that disco ball as they could.