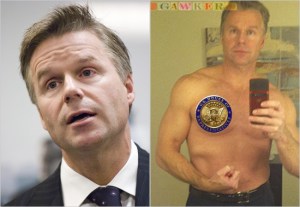 U.S. Rep. Christopher Lee, a Republican representing the 26th Congressional District in western New York, was forced to resign Congress for wearing his Congressional lapel badge in violation of Congressional rules. Lee wore his Congressional badge pinned to his "bare skin…to impress a woman he met through Craiglist…", according to a press release from the Majority Office of Speaker John Boehner.
Under Legal Provisions and Congressional Ethics Rules, "RPCC (Rules of Professional Congressional Conduct) Sec. 7:1a (3): Congressmen must wear their Congressional Pin at all times while in the Capitol Building pinned to their jacket lapel, collared shirt lapel or overcoat lapel (if an at event outdoors), and should not be worn in any other manner…."
This is only the second time a Congressman was cited for violating rule RPCC Sec. 7:1a (3). In 1830, Rep. Henry Clay from Kentucky, pinned his Congressional lapel badge 'to his buttocks, and told fellow member of Congress John Quincy Adams to 'kiss my Congressional pin', during a debate on slavery. Clay was merely censured by his fellow Congressmen.
Lee issued a statement indicating that "…it was very painful, and hard to get off…not worth the effort."