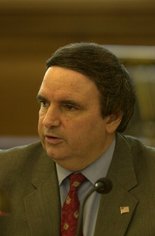 February 14th, 2011:News Shocker – State Senator John A. Girgenti sued for Patent Infringement of US Patent No. 4,022,227: 'The Comb Over'
In what is sure to be a source of embarrassment for State Senator John A. Girgenti (D-35) of Hawthorne —in his capacity as Chairman of the Senate Law and Public Safety Committee, as well as Vice-Chairman of the Senate Judiciary Committee—–Senator Girgenti was sued last Friday for infringement of United States Patent No. 4,022,227 by Frank & Donald Smith of Orlando, Florida.
According to the suit filed in the United States District Court for the District of New Jersey, the Smith brothers own a patent for "a method of styling hair to cover partial baldness using only the hair on a person's head. The hair styling requires dividing a person's hair into three sections and carefully folding one section over another," – also known as "the comb over." United States Patent No. 4,022,227 was issued to the Smiths in 1977

The suit claims "Girgenti willfully and knowingly infringed upon [the Smith's patent] and has caused the rightful owners irreparable financial harm." The Smiths have asked the court for "an injunction to prevent the continuation of the use of [their patent]" and have also asked the court for "an award of damages because of the alleged patent infringement." The "willful" infringement of a patent enables the plaintiff to collect treble damages, as well as attorneys' fees.

Girgenti's district office had no official comment when contacted, but an anonymous source indicated that the "…suit had no merit, as the Senator has been combing his hair that way for more than twenty years…".