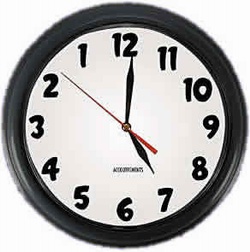 February 22, 2011: Gov. Christie to hold "Turn Back The Clock!" Counter-Rally with Republican electeds.

As Charles Wowkanech, New Jersey State AFL-CIO President, joins a furious clan of Wisconsin workers who will travel to Trenton this Friday who say the time is now to rally for collective bargaining rights, Gov. Christie will hold a counter rally on the Statehouse steps with Wisconsin Republican Governor Scott Walker.
Christie and Walker will be joined by dozens of other Republican elected officials from around the nation at their "Turn Back The Clock!" Rally. "The time is not 'Now'; the time is 'Then'. It is time to turn back the clocks," asserted Walker in a media release.
Wisconsin Gov. Walker, who wishes to turn back the clock on public union labor's right to collective bargaining, will be joined onstage by New Jersey Congressman Chris Smith, who wishes to redefine the legal definition of rape, turning back the clock on the right to womens' productive freedom; Missouri State Sen. Jane Cunningham, who's introduced a bill to turn back the clock on child labor laws; and newly elected Kentucky Sen. Rand Paul, who earlier last year expressed his wish to turn back the clock on civil rights by declaring that the Civil Rights Act of 1964 was "unconstitutional".
"This is who I am!™," began Gov. Christie with his now famous trademark phrIase. "Last year in New Jersey, and last November, the American people elected Republicans to turn back the clocks. To turn back the clocks on collective bargaining for unions. On environmental protection. On abortion rights. On child labor laws."
"Public workers say 'the time is now'. Well, we say the time is 'then'. Now is the time to turn back the clock to 'then'," Christie yelled. "At this rally, we will stand shoulder to shoulder in solidarity with our fellow Republican electeds across the nation and speak out to support their right to turn back the clocks."