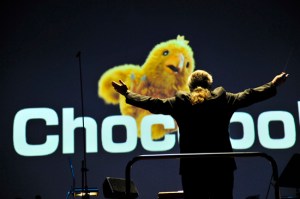 Things we learned today: The hugely popular Final Fantasy games have their own concert series!
Distant Worlds: Music From FINAL FANTASY will make its New York premiere in April at the Brooklyn Academy of Music.
The concert features an orchestra and soloists included Susan Calloway, who recorded vocals for Final Fantasy XIV. The concert is an immersive video game experience with HD videos and stills from the game's "most memorable sequences" displayed on large screens. Songs include "One-Winged Angel" (Final Fantasy VII), "Victory Theme" (Final Fantasy) and "Aerith's Theme" (Final Fantasy XII).
"Featuring scenes from throughout the Final Fantasy series as well as music from the newly released Final Fantasy XIII and XIV, this is truly a concert not to be missed," BAM says. Rad!
It's the 20th anniversary of the first Final Fantasy videogame, released for Nintendo in the U.S. in 1990. The later games especially are known for their cinematic soundtracks.
ajeffries [at] observer.com | @adrjeffries