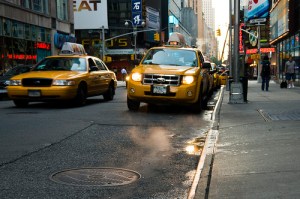 Piggybacking off its latest effort to win New Yorkers' hearts with free burgers from Shake Shack, group buying startup Scoop St. today announced its latest offering. The company is giving away a year's worth of free cab rides to one lucky member.
Are there some provisos? Let's take a look at an email co-founder David Ambrose sent to The Observer:
Like all of our scoops, this Perk requires a group of New Yorkers to become interested and committed to the initiative in order for it to happen. For instance, if we receive a minimum number of entries, the chance for a year of free cab rides will get unlocked. In a way, with the actions of Scoop St. members looking to achieve the perk, it's a statement to the Taxi and Limousine Commission to lower fare in the new year!
A look at the fine print on the deal page reveals that a "Minimum of 25,000 qualifying and valid entries must be submitted by the contest expiration date of Feb 15, 2011" for anyone to get the chance at the year of free cabs. It's also perhaps worth noting that "This contest is not owned, operated or endorsed by the New York City Taxi & Limousine Commission." It's not even endorsed by the cab commission?
Clearly group buying sites rely heavily on growing user bases to make them work. The competition in the space has been heating up for a while, and companies hoping to stand out have to come up with new angles–hence this sweepstakes that only gets triggered when 25,000 people sign up.
Scoop St. says the year of free cab rides is worth $18,000, and $3,000 worth of rides will be doled out to two runners-up. That's real money Mr. Ambrose is putting on the table, even without taking into account the earlier burger tab.
(Disclosure: The Observer and Scoop St. partnered for a holiday gift guide at the end of 2010.)
mtaylor [at] observer.com | @mbrookstaylor