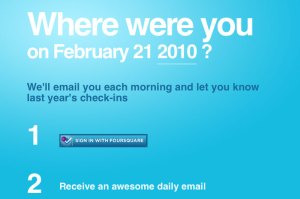 The Foursquare Hack Day at General Assembly on Saturday resulted in a more than a dozen playful programs built on top of the location-based service.
One of the more creative efforts is called, 4 Square & 7 Years Ago, which sends users an email every morning reminding them of where they were one year ago to the day.
Co-creator Jonathan Wegener met up with The Times' Nick Bilton at the event, and plans to add a feature showing the top story from the Gray Lady one year ago. It's a great idea, though if we were to tweak it we might suggest sending the email at a different time of day. No one wants to greet the day with Mike Allen and a momento mori.
Agora, a hack by Pierre Valade derived from a flirting application, tells users who in their location might make for good conversation, based on both users' Twitter graphs.
About Foursquare has a round-up of some of the highlights. For chart porn addicts, we recommed Fourgraph, which creates a sumptuous infographic out of a users' check-in history.