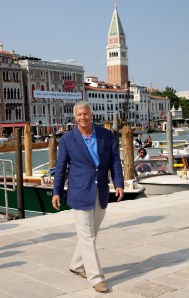 On Friday, the weather was so wonderful, everyone was in a great mood. The sun filtered through the chain curtains–it was perfect! Martha Stewart came in for lunch. We had to open the restaurant early for her because she arrived at 11:30 a.m.! So it was a Martha Stewart day. She looked better than ever. Maybe it's all that yoga!
Mary Boone has been coming almost every day. I think she is getting a little competitive with Arne Glimcher. I told you that last Tuesday she brought Eric Fischl, and everyone was so excited that he was here. Then I realized why they were all so excited–everyone in the room owned a painting by him (well, practically!). Mr. Fischl was the first person to wear jeans in the Grill since Mick Jagger many years ago. Mary Boone actually asked me, "Why did you let him in then?" And I told her, "Why do you think I let him in!?" Unbelievable!
We really had the art world in our crosshairs this week. Larry Gagosian stopped by for a tasting as well. We are hosting a big party for him here for the opening of his Malevich exhibit on March 3. We planned an all-white menu. Very chic!
The prince is here every day now. I've trained him to call ahead to tell me when he's coming. He usually just shows up and wants his corner banquet table. Can you imagine? Now he calls my cell phone to alert me. On Friday, he arrived for lunch at almost 2 p.m. wearing a bright green scarf, with his usual hunter green suit. He still has red wine, but he has started drinking his Coca Cola here. He usually drinks 12 of the little glass bottles a day! On the other side of the room was the Barefoot Contessa. Sort of like royalty bookends!
NPR pundit Bill O'Shaughnessy came in twice last week, once with a friend and once with his son.
Pete Peterson sent me the 2011 Pirelli Calendar photographed by Karl Lagerfeld. There were naked women and even some naked men! Why did he send it to me? I don't know; he's a very generous guy. Also probably because he knew I would make a fool of myself and show it around the restaurant!
He was here earlier in the week like everyone else. But by Friday, they had all left for the long weekend. Pete Peterson left for Florida that afternoon. Everyone is either going to Florida or to Aspen.