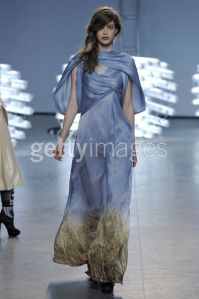 Rodarte, created by the Mulleavy sisters Laura and Kate, is one of the most exclusive shows during fashion week. The company is a tightly run ship and they strictly ration the invitations. Even the location of the event is cloaked in secrecy and the address is only sent out to editors and photographers at the very last minute. This year their Fall 2011 show took place at the ultra-trendy Gagosian Gallery.
Everyone knows that this kind of exclusivity is a red rag to gatecrashers. And since, despite repeated attempts to gain access to the show by emailing weeks in advance, our invitation appeared to have been lost in the post we decided to take matters into our own hands.
We thought of buying a ticket outside the door from one of the junior fashion editors (somebody had made us an offer at the Charlotte Ronson show, so apparently there is a healthy black market). However, there was no need to roll out the dough because we spotted an open door and darted inside behind the bank of photographers. Once in the room, it wasn't long before we found our favorite editor to chat with, Joanna Coles. Marie-Claire's über-Editor and the star of Running in Heels was in sleek black trousers with a chic blond leather jacket. She was next to her fashion director, Nina Garcia, who had just come back from maternity leave and was already back in her sample sizes.
As there was some time to kill before the show began, we thought that given the non-conformist nature of the Rodarte line, that the guests would be open to answering slightly unusual question about fashion.
We asked a bunch of editors which designers they would like be buried in.
"Hmmm, maybe Givenchy, because he has that religious element," said Nina Garcia reflectively.
Brad Goreski, Demi Moore's new stylist, didn't even blink before answering, "Tom Ford. Definitely."
Vogue's Eve MacSweeney said, "It's too late but it would have been Alexander McQueen."
Vanity Fair scribe Amy Fine Collins put a different spin on it, "Could I be buried with all of my wardrobe?"
And from Jay Fielden, the leonine new EIC of Town and Country, "Whatever I'm wearing at my desk probably."
When the show began, it fulfilled all expectations. The Rodarte sisters manage to create incredible dresses and keep a sense of fun and flirtiness to their designs. Our favorites included a long champagne colored dress with silk flowers sewn all over it and a cornflower blue dress fringed with wheat sheaves. They retained a little punk edginess too, with a couple of Valentine's Day red pouffy sequin and mesh numbers.
On the way out, a few editors were shaking their heads and whispering that the collection wasn't what it had been last season. Rodarte might have reached the height of popularity so quickly that a backlash has now begun but, for our part, we would have happily ripped any one of those dresses off the models' backs and run for the hills wearing it.