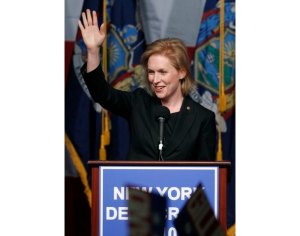 Senator Kirsten Gillibrand said that Rep. Gabrielle Giffords is making "remarkable progress" as she recovers from last month's shooting in Tucson and has started speaking, making specific requests for food and talking to loved ones.
"They're short sentences but specific, and very communicative," said Gillibrand about Giffords' progress. "I think that's really what people are so excited about- that she's able to speak, that she's able to communicate and now its all about whether she can continue to grow, can continue to recover, and really get all her faculties back."
Appearing on MyFoxNY this morning, Gillibrand spoke about her newly-announced legislation that will allow homeowners to deduct the full amount of their property taxes from their federal income taxes. The Homeowner Tax Fairness Act is intended to help middle class families.
"The reality is is that everyone should be able to deduct their property taxes but right now the law prohibits you from deducting if you don't itemize, and a lot of our middle class New Yorkers do not itemize their taxes so what this bill does is it says everyone should be able to deduct their property taxes," Gillibrand said. "Its going to be worth about $1 billion for New Yorkers, over a million people will now be able to get more back in their taxes."
She also spoke about her fight against House Republican's proposed legislation that would prevent access to abortions. Gillibrand said that the move, in the form of the No Taxpayer Funding for Abortion Act, is not in keeping with the voter's wishes.
"People said we need you to come together, do your jobs, and start helping business create jobs creating a better landscape for economic growth. And so for this Republican congress to turn around and start to undermine women's constitutional rights I think is abhorrent and I'm going to fight very hard to make sure that what they do in the house does not come over to the Senate," she said.