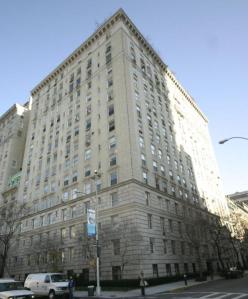 Legendary moneyman Glenn Dubin is known for spinning gold even when others are becoming spinsters—among his many achievements is turning a 65 percent return the year of the 1987 market crash. Yet it appears even a lion like Mr. Dubin is not immune to the vagaries of a real estate bubble. Having purchased Jackie O.'s old 1040 Fifth spread for $30 million in 2006 from David Koch, Mr. Dubin and his wife Eva listed their duplex co-op at 1010 Fifth Avenue for $18.5 million in November 2009.
As The Observer noted at the time, it took the Dubins nine months to bring their home to market, and now twice as long to sell it, and at quite the discount, no less.
The duplex, which looks down on the Met, just sold for $13.75 million to another budding banker, Alexander Klabin, who runs Senator Investment Group. According to an article in Absolute Return + Alpha, the fund is having Dubin-esque success, "thriving at a time when most new funds are finding it difficult to raise funds." The firm has won seed money from the Blackstone Group and manages more than $2 billion in funds. How long before he serves atop the Robin Hood Foundation, or some other prestigious New York charity, as Mr. Dubin once did?
Mr. Klabin bought the six-bedroom, five-and-a-half bath home that the Dubinz assembled over a number of decades with his wife Kristin, a former middle school teacher. The 12-room whopper is a beaut, as Corcoran star Deborah Grubman makes clear in her listing: "Excellent condition – Central Park Views – West and South facing views from major rooms – Full Service, White Glove Building." Carter Horseley puts things a little more grandiloquently in his description of the 1928 Fred F. French building: "With its handsome Italian Renaissance-style detailing, sidewalk landscaping and attractive sidestreet entrance, 1010 Fifth Avenue is one of the classic elegant addresses in the city."
The Klabins are leaving behind a decidely different home as they depart the glassy, four-year-old condo tower at 255 East 74th Street.
Besides Mr. Dubin (No. 773 on last year's Forbes rich list), other notable residents at 1010 Fifth include Richard Kalikow and Anthony "Tommy Bahama" Margolis, whose eighth-floor three-bedroom has been on the market for more than three years and is currently asking $10.25 million. The building is across from the Duke Semans Mansion, which Carlos Slim (No. 1 on said list) bought last year for $44 million, the most expensive sale of 2010.
Read past Manhattan Transfers here. >>