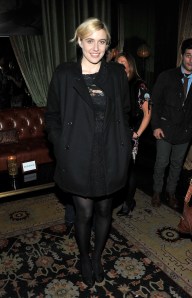 It was a quiet afternoon when The Observer came across a profile of actress Greta Gerwig in Women's Wear Daily.
Any profile on Ms. Gerwig appeals to The Observer as a reasonable thing to aggregate. The actress is very much of the moment. Ms. Gerwig has both cult cache (queen of the mumblecore movement) and big-in-2011 buzz (upcoming roles in Arthur with Russell Brand, and Whit Stillman's long-awaited comeback Damsels in Distress).
Also, The Observer met Ms. Gerwig at an after party for No Strings Attached, in which she plays Natalie Portman's best friend. Ms. Gerwig arrived wearing a neat black skirt, black tights and a black coat, which she kept on even when safe in the warm confines of the Soho Grand Club Room (warm in more ways that one! — the Club Room has the comforting wood-wrapped look and feel of an Ivy League secret society lounge). Guests picked at a light salad, hors d'oeuvres and cream-sauce ravioli. Ms. Gerwig was exceedingly nice to us.
But the WWD profile's most notable quality, and the reason The Observer chose to aggregate it, is the self-aware way in which it subverts the profile formula.
It begins like this:
Interviews with hot, young actresses tend go something like this: starlet arrives wearing borrowed togs, artfully disheveled to look like hers; starlet offers the requisite sound bites on how lucky she feels between sips of Diet Coke; starlet teeters away on heels, leaving in her wake a cloud of sycophantic gushing and untouched food.

It takes Greta Gerwig — a hot, young actress, to go by just about every film critic and editor — all of 30 seconds to upend that time-tested script…
But the profile does, in fact, follow the standard protocol for a downtown starlet's profile — it makes crutches of the grungy-chic choice of locale (Schiller's Liquor Bar), the selected food and drink (huevos rancheros and coffee with — gasp! — whole milk), and the outfit ("A cozy, salt-and-pepper Jil Sander cardigan and purple Theory miniskirt with tights").
At least it was self-aware about the limitations of profile writing. If only aggregators could be the same about aggregating.
Click for Scandal Report: Champagne Mania Makes for A Boozy Golden Globes