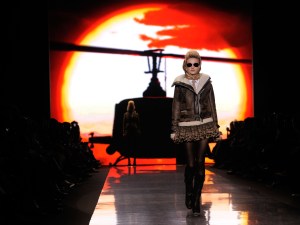 The gridlock that seized the runway before the L.A.M.B. show last night had its heart near a cluster of seats in the front row — one seat, one empty seat, had pulled in a growing orb of press and PR flacks. When The Observer finally shouldered through the crescent of photographers and video crews ready to pounce on the expected celebrity, we snatched a glace at the name: Matt Damon.
"I heard it was actually Matt Dillon, and they made a mistake," a woman with a notebook said to The Observer.
"I was backstage with Gwen and she says she's never even met Matt Damon," said another journalist.
Minutes passed without an arrival from either of the Matts but the cameras didn't budge.
"I've been here for forty minutes," one woman with heavy-looking videocamera said to The Observer.
We realized before others that there would be no Matt Dillon nor Matt Damon at the L.A.M.B. show. We escaped to chat with the twin sisters Jessica and Lisa Origliasso, better known as the teen-pop act The Veronicas. Favorite No Doubt songs?
"Don't Speak!" said Jessica.
"Just a Girl!" said Lisa.
"I also like Spiderwebs," said Jessica.
"I like Ex-Girlfriend" said Lisa.
"Yeah, Ex-Girlfriend," said Jessica.
We noticed that a placard for Debbie Harry was taped to the chair next to The Veronicas, and the sisters said they were excited to meet her (Debbie Harry didn't show).
What did everyone miss? Well, it was a bombastic and long show — Zeppelin-soundtracked Vietnam combat frenzy, charmingly earnest use of "We Will Rock You," a cringe-worthy punk-rock type excursion set to The Sex Pistols, falling models, an obvious but fun Kinks-toned British Invasion scene, and then Gwen walked out with her son Kingston at the end.
Unfortunately, The Observer may remember the show for its notable length. Because of all the delays, by the time we ran over to the Kim Crawford wine stand with another painfully sober writer they had stopped giving out free Sauvignon Blanc. Thus, it was time to go. See you in September, Lincoln Center tents!