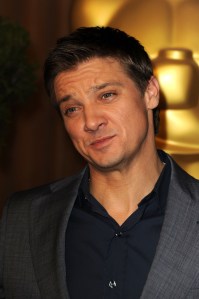 Only a few years into the Avengers super-cycle, and studios seem to be wearying of superhero tales as tent-poles. 2011 brings us a Red Riding Hood adaptation from director Catherine Hardwicke, dueling Snow Whites starring Charlize Theron and Julia Roberts, and now a Hansel and Gretel movie from Paramount. Former X-Woman Famke Janssen is to star in the film, titled Hansel and Gretel: Witch Hunters, alongside Jeremy Renner, who's coming off his second consecutive Oscar nomination and gearing up for the fourth Mission: Impossible. IMDb's description reads:
"Catching up with Hansel and Gretel 15 years after their incident involving a gingerbread house, the siblings have evolved into bounty hunters who hunt witches."
Unlike the often self-serious "Avengers" series and Batman films (how much do we really care about Iron Man?), this film promises to be light-hearted, if unintentionally. (The director's most notable previous credit was a film about Nazi zombies.) And yet Renner's presence in this film implies it'll get taken seriously by its studio, just as the Snow White films and Red Riding Hood (with Amanda Seyfried) will be. Will we ever view Hansel and Gretel the same way again? And what did Renner do to work off all the pounds from eating the witch's gingerbread house?
ddaddario@observer.com :: @DPD_