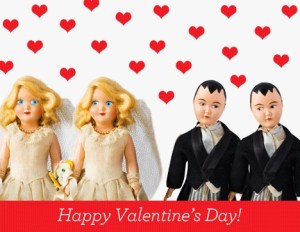 The New York Civil Liberties Union took advantage of the holiday spirit of love today and published a Valentine's Day poem in support of same-sex marriage legislation: "Republicans are red, /Democrats are blue, /But love transcends political parties, /We know this is true." Catchy, kinda of!
The poem comes with a message to the group's supporters, urging them to contact State Senate Majority Leader Skelos and other members of the State Senate to express support for gay marriage.
This specific push may be a result of Cuomo's statement last week that he would try to put marriage equality legislation to another vote within the next few months. Gay marriage efforts have passed in the State Assembly, but not in the State Senate- the most recent attempt to pass legislation on the issue failed by a sizable margin in 2009. According to polls, more New Yorkers than ever before support the legalization of same-sex marriage, which may account for the issue's recent resurgence in popularity.
New York isn't the only city seeing a push for this issue today, however. ABC reports that marriage equality advocates nationwide are celebrating Valentine's Day by campaigning for gay marriage rights. Freedom to Marry, a New York City-based group, is kicking off a $10 million public education campaign called "Why Marriage Matters" with a nationwide television ad that will run on CNN. Other groups across the nation are organizing their own efforts to support the cause.
"As we cheer on our heterosexual fellow citizens who are able to marry on this wonderful day of love," Molly McKay of advocacy group Marriage Equality U.S.A. said in a press statement, "we will remind the world that falling in love and the desire to marry the person you love is a universal sentiment and that all citizens should have the freedom to marry the one they love."
If gay marriage can- as the Times recently postulated– positively impact state budgets, legislators maybe inclined to take another look. Here's the poem in its full form:
A Valentine's Day Poem in Support of All of New York's Families
Republicans are red,
Democrats are blue,
But love transcends political parties,
We know this is true.
So on this Valentine's Day,
Tell the state we don't care who's straight or gay.
It's time for the Senate to finally act,
To allow all of New York's couples to enter the marriage pact.
Marriage fairness is about love,
Family, and children, too.
It's about dignity and equality,
And discrimination we must undo.
So send a quick note to the reps of our state,
And tell them everyone should be able to marry their soul mate.
The Senate must correct its archaic world view,
For fair marriage laws are long over-due.
Roses are red,
Violets are blue,
Wishing you a wonderful Valentine's Day,
From the NYCLU!