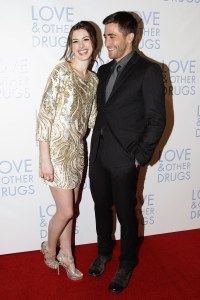 Anne Hathaway and Jake Gyllenhaal's latest collaboration will hopefully fare better than Love and Other Drugs – but it's at newsstands, not the box office. The Vanity Fair "Hollywood Issue," which traditionally features either seasoned veterans (Harrison Ford and Jack Nicholson, 2003) or bright young things (Abbie Cornish and Kristen Stewart, 2010), has dropped for 2011. This year, Vanity Fair splits the difference – and avoids any risky, Cornish-style bets – with a stunning, color-saturated spread of familiar but unwrinkled faces.
Many of the stars on the Shanghai-bar cover have big superhero movies in the offing, from the front page (Ryan Reynolds as the Green Lantern, Anne Hathaway as Catwoman) to the inner gatefolds (Jennifer Lawrence in the new X-Men flick, Andrew Garfield in some movie about a spider, or something). The rest have been subject to huge publicity pushes, for various reasons (three Social Network stars and both 2011 Oscar hosts are here) – they're young, but not fresh faces. With the possible exception of "bartender" Robert Duvall – we just don't think he has staying power! – none of these performers seems likely to fade out anytime soon. We miss Vanity Fair's weird old days, when they'd spotlight Wes Bentley and Monica Potter.
In full, the cover features: Ryan Reynolds, Jake Gyllenhaal, Anne Hathaway, James Franco, Jennifer Lawrence, Anthony Mackie, Olivia Wilde, Jesse Eisenberg, Mila Kunis, Robert Duvall, Joseph Gordon-Levitt, Andrew Garfield, Rashida Jones, Garrett Hedlund, and Noomi Rapace. Large image (via VF) here.
ddaddario@observer.com :: @DPD_