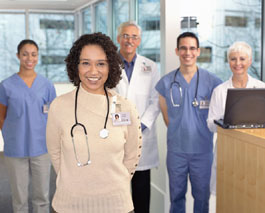 The state's powerful health care lobby came out quickly and loudly against Andrew Cuomo's proposed budget today, saying that "if enacted it will decimate New York's health care infrastructure, threaten access to care, and harm communities everywhere."
"We understand the severity of New York's fiscal crisis, and we are committed to working with Governor Cuomo and all stakeholders to reduce Medicaid costs in ways that protect essential health care services, particularly in the most vulnerable communities," said George Greshman, president of 1199/SEIU Healthcare Workers East, perhaps the most powerful union in the state, and Kenneth Raske, president of the New York Hospital Association, a city-based trade group, in a joint statement. "But it will require a superhuman feat to cut $5.9 billion without severely damaging health care delivery in New York."
And they reminded Cuomo that two hospitals–St. Vincent's Hospital and North General Hospital–closed last year, and ominously warned that more closings could be on the way.
Eliot Spitzer learned the hard way how difficult it can be to tangle with health care. His streamroller stopped at 1199 headquarters after he tried, like Cuomo is trying, to take on the union.
The Greshman/Raske statement noted that Cuomo is calling for a 10% cut of the state's Medicaid program, which they said could trigger a loss of $3 billion in federal funding. And, the duo noted, Cuomo's cuts are a tad premature, since the Medicaid Redesign Team, which Cuomo formed to help curb the growth of health care spending, and which both leaders sit on, is not yet finished their work.
They noted finally that most of the 13 percent increase in Medicaid payments–the kind of budgeting gimmick that Cuomo has vowed to stop–stem mostly from growth in medical costs, not in increases to service providers.