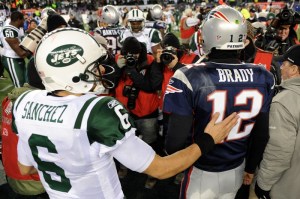 It came as a surprise to many that the Jets beat the almost perfect Patriots in the first round of the NFL playoffs a few months ago, but the even bigger upset may be that New England's All-Pro quarterback Tom Brady has, after more than two years of scouting, found a buyer for his stadium-sized condo near the top of the Time Warner Center.
The Journal reports that Brady's three-bedroom, 3.5-bath, pentagonal apartment in the complex's north tower has just gone into contract. Should the sale go through, Brady and his supermodel wife Gisele Bundchen will have separated almost all their ties with the city, the paper notes, as she has sold two downtown properties recently, a townhouse and a penthouse, both in the West Village.
Brady's northeastern-facing skybox covers 3,000 square feet, and while he never lived there, it sounds, from broker Raphael DeNiro's description, as though Brady may have a little bit of Broadway Joe's old flash in him, at least when it comes to interior decorating:
Highlighting this home are all new black lacquered doors, beautiful ebony finished walnut wood floors, Venetian plastering & custom hand-painted wallpaper gracing each of the opulent baths. […] Complementing this sophisticated space are custom built-ins throughout, a top of the line kitchen, custom zebra wood paneling/shelving in the oversized masterbdrm, which features 2 huge walk-in closets and a sumptuous ensuite marble bath.
Brady has expressed his loathing for New York, or at least the Jets, on numerous occasions, so it was only a matter of time before he hit the showers. The price has yet to be revealed, but the unit had been asking $18.5 million, after Brady paid $14 million for the spread in 2006. Here's hoping he was sacked for a loss.