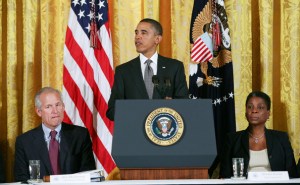 Ursula Burns, the chairman and CEO of Xerox, has been named one of the 20 most powerful women in the world two years running by Forbes thanks to her efforts remaking the century-old copier company into a "data service" outfit.
It's not unlike her former home at the Beekman Regent, a 20-story condo building at 351 East 51st Street that was built in 2001 atop a century-old school house. The retooled building, like Ms. Burns, is no stranger to praise, either, having won the Mercedes Benz Property Award for
best new development in 2002.
The three-bedroom, three-bathroom home with East River views is located on the 14th floor and sold for $2.15 million on Jan. 20, according to city records. The buyer is Marquez R. Eduardo, who lists an address on the 14th floor of 2 Sutton Place South a few blocks away.
Ms. Burns bought the condo for $2.5 million in the fall of 2005, and listed it last August with Stribling's Beatrice Ducrot for $2.6 million, before cutting it to $2.45 million a month later.
Perhaps Ms. Burns moved because she was tired of riding the MetroNorth to Xerox headquarters in Norwalk, Conn. She now lists an address in nearby New Canaan. Neither Ms. Burns nor Ms. Ducrot could be reached for comment. The Observer even tried sending a fax.