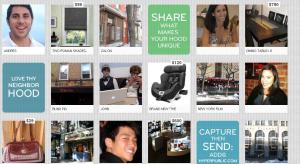 It's common in a metropolis like New York for people to ignore the majority of what goes on around them. Without that filter, we would all go a bit crazy.
But Hyperpublic, a startup that launched this morning, thinks users might be interested to learn about the people, places and things they pass by everyday. It gives users a way to tag and search what's interesting by location, even setting the radius for the area you want to explore.
The startup is founded by Jordan Cooper, a venture partner at Lerer Ventures, and Doug Petkanics, a developer and entrepreneur. It raised $1.2 million from Lerer Ventures, Ron Conway, Nextview Ventures, Hudson River Angels, RRE, Softbank and Thrive Capital.
"We believe that you are only aware of 10 percent of what's inside the locales and neighborhoods where you spend time, and we're shooting to show consumers that collectively we can expose, discover, and search through the unknown elements that we pass by every day," Cooper told The Observer.
Right now goal is to grow the site, not monetize the process. "We're squarely focused on surfacing the unknown within your local experience," says Cooper. "If we can do that, we win."
But it's clear the site has a path to commerce. When I search for things in my zip code, I can see a price tag next to many of the items and a link to contact the seller.
"People like to eat, shop, socialize within a few blocks radius," wrote Buzzfeed's Jonah Peretti. "This is the secret sauce of Hyperpublic."
That's true, but well established services like Yelp and Foursquare are already great at helping users find places to eat and shop locally. The success of the Hyperpublic will depend on the emergence of engaged communities, in this case built around specific neighborhoods, that create a rich enough database to make the service worthwhile.
The site is off to a good start, with support from lots of local techsters. "I love the message — what's the local spot that brings you joy'?" Betaworks Andy Weissman told The Observer by email. "It's very affirmational and we need more of those types of services about our local surroundings."
Like many New York startups, it's an online product with an offline message. "The idea is to allow our users to see and navigate their neighborhoods with a new level of clarity and engagement," says Cooper.
bpopper [at] observer.com | @benpopper
Check Out – ThingD is Joe Einhorn's Database of Everything >>
Disclosure: Thrive Capital is an affiliate of Kushner Companies, which owns The Observer.