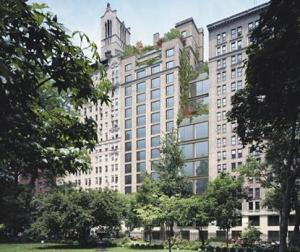 In Europe, Icelander Jon Asgeir Johannesson is best known for invading London and buying up some of its poshest stores before his Baugur empire collapsed amidst claims of fraud and embezzlement to the tune of $2 billion. In New York, his crimes are far worse: invading the penthouse of the Gramercy Park Hotel and outfitting it with drab IKEA fixtures.
Finally some good news for Mr. Johannesson and his stunning wife Ingibjorg Palmadottir, who have just sold his 4,235-square-foot spread at 50 Gramercy Park North to a fellow Viking after two years on the market. According to city records, Mynni Ehf (Icelandic for "Mouth Ltd.") just paid $22 million, and the deed is signed by Eyjólfur Gunnarsson, an investor who might just be the only person left in the land of Björke with any money, following the small island nation's dramatic financial collapse.
Maybe the trick to finally selling the place, which had been asking $25 million, was ditching the IKEA in the three-bedroom, three-bathroom duplex for arch-minimalist John Pawson, as that is who Corcoran's Tim Cass and Trisha Lawton list as having designed the place. Mr. Johannesson purchased two units, one in April and one in May of 2007, for $14 million total to create his home.
Read past Manhattan Transfers. >>