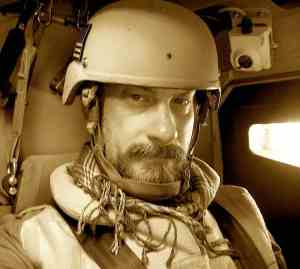 Earlier this month, James Gordon Meek resigned his position as the terrorism reporter for the New York Daily News–a post he had held for 8 of his 13 years on the beat–and accepted an offer to become a senior investigator on the House Committee on Homeland Security.
"It's a pretty intense period right now and the idea of having any piece of it, any part of helping secure the country was–there are those moments sometimes where you just can't say no to something like that," Meek told The Observer on Wednesday, his third day in his new position.
Meek said it was particularly appealing given the number of threats over the last year and a half, which included discovering the first Al Qaeda cell in America, the attempted attack on Times Square, and two plots by Al Qaeda in Yemen.
"If I had been offered something like this, you know, three or fours years ago, I don't know how I would have felt about it," Meek said. "But there have been so many threats and plots in the last 16 months or so, that it's alarming. So in that context it seemed like an intriguing notion to be part of the counterterrorism effort on some level."
The move was first reported by the website Talking Points Memo.
Since becoming chairman in early January, Long Island Congressman Peter King has tried to shore up the investigative expertise on the committee. Last month, he tapped Joseph Herbert, the NYPD inspector who cracked the Zodiac killer's code, to serve as a counterterrorism fellow who could provide a local law enforcement perspective.
Meek said he expects his role to focus on Al Qaeda. Over the course of his career, he's interviewed members of the terrorist organization, covered the trial of Zacarias Moussaoui, and was at Guantanamo for the arraignment of Khalid Sheikh Mohammed. On September 11, 2001, he was at the Pentagon within an hour of the attack, and he subsequently reported on the various 9/11 inquiries in Washington.
"Often I walk in a room, and in certain contexts, I might know more about AQAP than a lot of the counterterrorism officials I'm talking to. In this office, they're telling me things about Al Qaeda that I didn't know," Meek said. "It's kind of like working in a think tank. It's pretty extraordinary."
As for how he came to cross the journalistic divide, Meek said it just sort of happened.
"I don't even know if there was a specific genesis about it," he said. "Talking about issues such as the threats and plots, the notion popped up of joining the staff."
It's something of an awkward time to be joining the committee, as King prepares for a controversial hearing on the perceived disloyalty of Muslim leaders in cooperating with law enforcement.
But Meek said he hadn't received any criticism for joining King's court.
"The response I've gotten from every corner–from sources, from people in the government I know–has been overwhelmingly enthusiastic and positive," he said. "People know Peter King is absolutely a serious guy on counterterrorism. This is a guy who knows the terrain, that knows the turf, listens to counterterrorism officials very intently and works very hard to support them."
The new boss seems happy to have him. "On a wide range of counterterrorism issues, James has extraordinary knowledge, contacts, and sources, and we will be relying on him as we go forward with our investigations into the terrorist threat against America," King said in a statement.
Meek also has a personal connection to the issue. Shortly after he spoke with The Observer, Meek emailed to mention another motivation for joining the committee: his cousin, Claudette Meek, was killed in the Oklahoma City bombing in 1995.