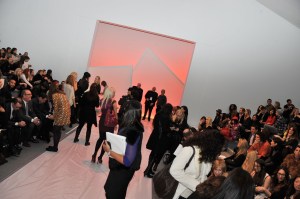 Once in a while an article in the Times ruins my day. In Thursday Styles last week, the Gray Lady pronounced big fashion shows out, hitting a deep nerve of my superficial soul.
The reporter alleges that ever since Tom Ford staged his women's collection for a mere 100 people in his store last September, designers are looking to radically scale down and limit audiences. "Intimate is definitely in the air," a KCD flack agreed.
Or is it just showy exclusivity that snookers top critics who then write raves?
Yeah, downsizing makes sense. When it's supposed to be about clothes, who needs the expense, headache, and spectacle? Who needs the overpaid celebrity models on the runway and the paid celebrities in the front rows? Who needs the champagne and bloggers backstage and stylists making pony tails seem more complicated to execute than health care legislation? And who needs the rumble-like mass entrances and exits with huge TV cameras nearly knocking the teeth out of the dignified and self-important? I do, okay? And I need it bad. Ever since fashion went pop in this country in the early 1990s, with the appearance of supermodels and mass media coverage of runway madness, I've been just inside enough to feel superior about having some access.
But if C list style people like me aren't required to fill the seats under the big tents (C list because we're like Collagen injections–filler) then who will be there to applaud the endless parade of forgettable clothes and to stare at the faces in the front row? And in the cross between a midway and a medina that is the lounge area beside the tents at Lincoln Center, who will consume all those landfill-filling little designer water bottles and cans of Red Bull that marketers strive to get into the hands of quasi-insiders?
"You should try a bottle of the kefir over there," a friend told me after a show last Friday.  I didn't really think it would sit well with the free glass of wine I was handed by the staff of an ambitious New Zealand winery that had paid for a booth to be alongside the cars, makeup and hair goop pushers.  In the center, an army of serious looking people used computers to tap violently on their keyboards as if reporting from the coup in Egypt.
Maybe it really is too big. Maybe it's no good at all anymore. I mean the Rebecca Minkoff show I attended in a huge tent was packed, but not with buyers or editors, from what I could tell. And the most memorable part wasn't even the clothes, but the ethereal music played by Julian Lennon and his girlfriend, Charlotte Kemp Muhl. Cynthia Rowley's big show a few hours later seemed far more upbeat and likeable, just as she is herself. I say seemed, because I couldn't see much of it. Even though I'd been invited weeks in advance, and then officially confirmed, all her publicity firm had for me was a standing room spot in the nosebleed section. Not even intimate and still shunned!
"Who are all these people?" I complained as I left. "Don't be a size queen," Mickey Boardman, Paper's editorial director, told me. He and Kim Hastreiter, his editor-in-chief, were on their way to an exclusive showing of Asfour in Saatchi's offices. I wasn't invited. So I whined to Robert Verdi, the celebrity stylist and TV personality. Then I complained to his colleague, Judy Licht, who suggested I might be missing a show under Anna Wintour's desk. "That's what I call the new intimacy," she said. Or was it Tommy Hilfiger's show at the subterranean Lion?
Patrick McMullan, the peripatetic paparazzo, was having none of my misery.
"Small isn't in, Bob," he told me. "In is in!" I have no idea what that means, but for now it will have to do.