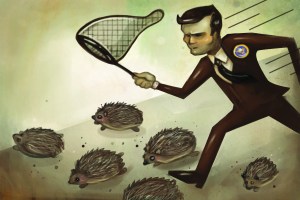 Pliers! Hard drives! Midnight dumping! North Face jackets! Electronic evidence of the destruction of electronic evidence! As most of New York ate up the more cinematic details of the latest chapter in the federal government's insider trading probe, more than a few interested parties in the hedge fund corridor from Wall Street to Stamford were starting to wonder where the investigation will go from here. One thing came through very clearly at the flow-chart-riddled press conference given to announce the most recent charges: It has only just started.
"We are far from finished," declared U.S. Attorney Preet Bharara on Feb. 8, the day when the latest of those ensnared–Samir Barai, Jason Pflaum, Noah Freeman and Donald Longueuil–joined the ranks of the 12 people already accused in the government's investigation into hedge funds and the use of so-called expert networks.
Until now, the hedge funds that have been subpoenaed or raided in the investigation have successfully written off those who were charged as a few rogue actors in an otherwise upstanding industry. But the raids and subpoenas are starting to take a toll.
"The government is using tactics that are more aggressive than the tactics that they've used in the past in these sorts of investigations," said James Benjamin, a securities lawyer at Akin Gump Strauss Hauer & Feld. But even the early casualties are insisting on their innocence. When Greenwich-based Level Global Investors, one of three funds that the F.B.I. raided in November, announced it was shutting down last week, its founder, David Ganek, said only that the government investigation has presented "significant challenges to maintaining our collective focus." He further reassured in his farewell letter to investors that the fund was not the target of the government's investigation.
It certainly helped the claim to clean hands that, as F.B.I. Assistant Director-in-Charge Janice K. Fedarcyk observed, those recently accused "lacked a mobster's better-honed instincts for conversational discretion." But it's unclear whether the rogue-employee argument will stand up for much longer, or exactly what kind of behavior the government is explicitly intending to stamp out.
"The industry and the legal-defense community are obviously waiting with great interest to see how far the government is going to take its logic," said David Siegal, a former assistant U.S. attorney who is now a white-collar defense lawyer at Haynes Boone. He pointed out that it was one thing to prosecute some individuals who were actively destroying evidence of potential wrongdoing to thwart an investigation, but another to criminalize a certain kind of information-gathering without issuing more clear regulations about it first.
"How far into the gray area is the government going to go with the criminal prosecutions?" he asked. "Are you going to put those people in jail, literally put people in jail, for a misunderstanding about what was material information at the time?"
At his press conference, Mr. Bharara made his sentiments quite clear in that regard: "We are not talking simply about the occasional corrupt individual," he said. "We are talking about something verging on a corrupt business model, for the defendants seem to have taken the concept of social networking and turned it into a criminal enterprise."
He did not mean Facebook. He meant the so-called expert networks at the heart of the probe, firms that act as fixers to connect hedge fund analysts with industry insiders.
Securities lawyers familiar with the case said that when such networks are used benignly to analyze trends and draw conclusions through a patchwork method known as the mosaic theory, there's nothing inherently wrong with them. But in this particular case, employees at the expert network Primary Global Research might have crossed the line, connecting Barai, Longueuil, et al. to employees inside tech companies who have also been charged in the probe.
Mr. Longueuil, a 34-year-old former speed skater, and Noah Freeman, who has already pleaded guilty and acted as a government informant, are both ex-employees of SAC Capital Advisors, the $12.8 billion hedge fund based in Stamford, Conn., founded by Steve Cohen (known more commonly by those outside the industry as "that hedge fund guy who owns Damien Hirst's shark in formaldehyde and who buys a lot of contemporary art"). The charges against them are the government's first overt announcement that they allege insider trading has gone on at SAC, where Mr. Longueuil and Mr. Freeman's employment coincided with part of the time period in which they were said to have committed illegal deeds. The fund fired both traders in 2010 for "poor performance," according to a statement by SAC spokesman Jonathan Gasthalter, but it opens up the question: Could SAC be next? Perhaps this is only the beginning.
ewitt@observer.com