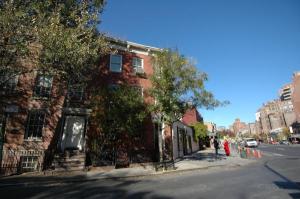 Ready to cash in on 9 Commerce Street?
The Citi Habitats listing calls this "a diamond in the rough," but to us it looks more like an empress in need of finery. The four-story, 20-foot-wide home has already been gutted, and that leaves a lot left to do–but that is the fun part. With two fireplaces on each floor–that's eight frickin' fireplaces!–and light streaming into each floor, it's time to bring your architect, as they say.
The home sold last July for $2.475 million, according to StreetEasy, and came back on the market days later for $2.495 million. This seems like a deal in the making, especially since those first two floors are also zoned commercial. A home? A restaurant? A new Marc Jacobs where the fabulous designer can live above the shop, as it were? The possibilities are endless.
SLIDESHOW: The Gutted, Fireplace-Filled Village Townhouse Awaiting Your Reno. >>