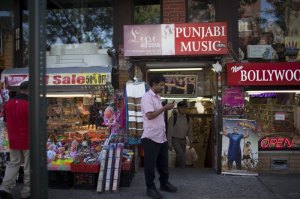 Now that The Times has annointed that land without beer, Williamsburg, as the new Park Slope, the paper is in search of other neighborhoods to colonize in that wilderness known as the Outer Boroughs. This week, the Gray Lady has settled on Jackson Heights–a nabe that brokers atrociously called the new Billy Burg but a few years ago–and finds that this tiny corner of Queens is where all the young, hard-working professional types are settling.
The ranks of these new buyers are thick with architects, academics, lawyers and artists. "These are people who are not Wall Street types, and who tend to be creative professionals," said Daniel Karatzas, an associate broker with the Beaudoin Realty Group and author of "Jackson Heights: A Garden in the City," a history published in 1990 with support from a local civic group. "Fifteen years ago, this was not on their radar screen."
Projit Mallick, a lawyer in his 30s who grew up in Kolkata (previously transliterated as Calcutta) and Los Angeles, is one Astoria transplant. Drawn by the abundant prewar housing stock, Mr. Mallick in 2004 paid $295,000 for a three-bedroom co-op on 82nd Street with his new husband, Andy Theodosiou, a naturalized Greek-American raised in Astoria. Their 1,500-square-foot apartment is a distinctive space created by a previous owner, who conjoined a pair of one-bedrooms, turning the superfluous second dining room into a third bedroom.
Uh, kinda sounds like the old curry-and-kebab strivers set that has dominated the neighborhood for decades. They even just made a movie about it, for gosh sakes.