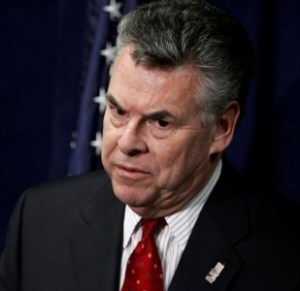 Peter King appeared on Fox News this morning and reiterated the need for his hearings next month on radicalism among American Muslims.
Critics, and especially the Council on American-Islamic Relations, have accused King of partaking of a modern-day McCarthyism, and want his hearings to be expanded to include non-Muslim extremists, including neo-Nazis and environmental extremists.
King however hit back, saying that CAIR was "an unindicted co-conspirator in a major terrorism case in this country and they are putting themselves forward as spokesmen for the Muslim community."
King is referring to a 2007-incident in which the Alberto Gonzalez-led Justice Department released the names of an undicted co-conspirators in a Texas terrorism case.
King added that the case of domestic Islamic extremism is a seperate issue from other kinds of extremism.
Take a look:
Take a look: