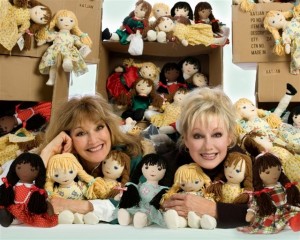 In a booth on the third floor of the Javits Center, Janet and Kathy Lennon, the youngest two of the singing Lennon Sisters, the wholesome, bouffant-wearing quartet of Lawrence Welk Show fame (still periodically spoofed on Saturday Night Live), were recalling the shooting death of their father at the hands of a delusional stalker.
"It was like a movie that you live through," said Janet, her hair pulled up and back in a platinum ponytail. "Throughout our career, we had people who we labeled 'kooks'–lots of them," explained Kathy, an elegant brunette.
Given that the slaying was seemingly the first involving a celebrity stalker, it is remarkable how little attention it received. In part, that was an accident of timing: The murder occurred three days after the Manson Family killed Sharon Tate.
The Lennons have rarely been interviewed about the incident, and it wasn't what they'd come to talk about. Toy Fair was under way, and the sisters were promoting Best Pals, their signature line of rag dolls, featuring new dress patterns created by QVC powerhouse Jim Shore, a towering figure in the world of homespun tchotchkes.
"We used to get these letters," Kathy recalled. "People who would send us rings, proposals. There were the ones that admired and loved you, and the ones that would cross the line, who were … off. The man that killed our dad had stalked us for years. In his mind, he thought he was married to our sister Peggy, and that the president and our dad were keeping him from being with his wife."
Chet Young was his name. He'd been institutionalized but periodically escaped, arriving on the Lennon family's doorstep and begging to see Peggy.
"Daddy used to say, 'He's a fan; be nice,'" Janet said.
On Aug. 12, 1969, Young approached Bill Lennon in the parking lot of the Marina Del Ray Golf Range–where Bill was a teaching pro–shot him and disappeared.
At the time, the Lennons were set to launch a new TV series, Jimmy Durante Presents the Lennon Sisters. Astonishingly, the show debuted even with Young on the loose. "We had to have a closed set," Kathy recalled. "F.B.I. agents, SWAT teams. We were terrified."
Two months after the murder, Young was found dead in his car, an apparent suicide.
Despite living through what seems like a very modern sort of tragedy, the Lennon Sisters never quite managed to shed the hokey aura of the Eisenhower years. "People always thought of us with those crinoline dresses and working with an accordion," Kathy said, rolling her eyes. "Sometimes it hurt that the industry saw us as squares. Even when we did the most sophisticated shows at Caesars Palace, people still remembered us doing the polka."
Still, neither sister expressed any regret. "I think we just enjoyed sisterhood so much," Kathy said. "Everything we did, we experienced it together. Best pals."
agell [at] observer.com | @aarongell