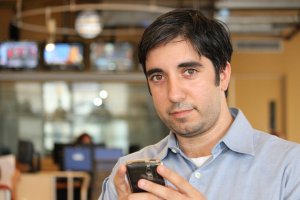 Azi Paybarah will rejoin the staff of The New York Observer, editor-in-chief Elizabeth Spiers announced today.
"Azi Paybarah is a prolific political reporter and I look forward to the dynamism and energy he'll bring to the Observer newsroom," she said.
A seasoned local political reporter, Mr. Paybarah left the Observer in May to write The Empire blog for NPR-affiliate WNYC. Prior to the Observer, he was a political reporter at New York Press and The New York Sun. He was recently named one of NBC New York's 'The 20'–the twenty most influential local Twitter users.
"Azi is a well respected journalist with the unique ability to excel across a multitude of mediums. We are excited to have him back," said Observer publisher Jared Kushner.
It's a happy homecoming for Mr. Paybarah, too.
"I'm honored to be re-joining The New York Observer as they further inject their fast-paced, intelligent and irreverent voice into the most important conversations. The chance to work with editor Elizabeth Spiers was a key part of my decision. What she promises to do to this news organization is nothing short of remarkable," Mr. Paybarah said.