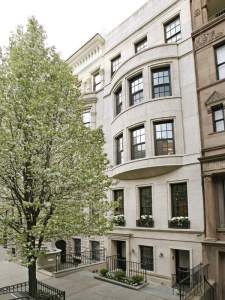 Mark and Renee Rockefeller know a thing or two about price cuts, having bought the Buckley maisonette at 73 East 73rd Street for $8.75 million in December, though it was once asking three times that amount. The Rockefellers only had to carve a quarter off the original $18.5 million price tag after their townhouse at 13 East 94th Street came on the market in April 2008, just as the bubble was peaking; it slipped off the market three months later before returning early last year for $15.5 million.
Now, city records show that George and Nitzia Logothetis have bought the home for $12.5 million. The 36-year-old Mr. Logothetis runs the Libra Group, a diversified holding company that sprang from his Greek-born father's shipping concern (is there any other kind?) that now controls vast transportation, real estate, hospitality and energy concerns.
"This grandly scaled house is noteworthy for its elegant bow-front Georgian Revival stucco facade," Sotheby's Serena Boardman wrote in her original listing. It just so happened that 13 East 94th Street is so nice, The Observer featured it last summer. The Real Estalker has a typicallly thorough rundown of the home, but in short, the limestone beauty covers 7,500 square feet, with four bedrooms, a library, a study and exercise and wine rooms in the basement.
It should be noted the deal was not a total loser for the Rockefellers, who paid only $10.8 million in 2005 to buy the home from Linux software savant Marc Ewing.
SLIDESHOW: A Wondrous Rockefeller Townhouse. >>
Read past Manhattan Transfers here. >>