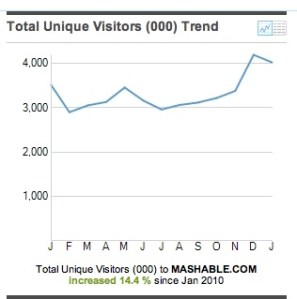 Statistics from web analytics vendor Compete showed that the popular social media news site Mashable could be losing its lead over now Aol-owned TechCrunch, the subject of a post on Observer.com yesterday.
But Mashable contacted The Observer, saying Compete's data is wrong.
"The data used to source this post is totally inaccurate–January 2011 has been a record month for us, with more than 42 million pageviews and 12 million uniques–that's 2x the traffic from the same month last year," Mr. Cashmore wrote in a comment. "Their entire trend line of dropping traffic over 2010 is wrong–we've actually seen traffic ramping up, with the growth curve accelerating over time. Compete appears to be misrepresenting both our traffic and our trend line, and we'll reach out to them to correct this issue."
Mashable followed up with a chart from Comscore that shows the site's traffic is up 14 percent over last year.
Mashable is based in New York with an office in San Francisco.
ajeffries [at] observer.com | @adrjeffries