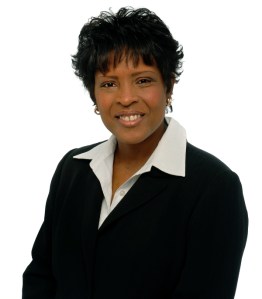 Welcome to the latest installment of our ongoing interview series, Meet the Neighbors! Toni Martin grew up in Queens, lived in Manhattan but settled in Brooklyn, where she is now a specialist for the Corcoran Group. She has sold units all over the borough since joining the firm two years ago, thanks in part to her years of experience in the business sector. Though she likes to drive, Martin is also a health enthusiast who jogs and plays sports regularly.

Where do you live?
I am a proud resident of Clinton Hill, Brooklyn. I own a turn-of-the-century brownstone on a quaint tree-lined street located in the historic landmark section. I acted as my own general contractor and directed a total gut-rehab project overseeing all aspects of construction. It was really a labor of love and I managed to maintain all of the original details on the inside and sought the assistance of the New York Landmarks Conservancy to oversee the facade work. I love it!
How is work these days? What is your latest deal?
2010 was a great year and 2011 is off to a fantastic start! Due to historically low interest rates, government initiatives for first-time buyers and reduced pricing for properties across the board, this was an impetus for prospective buyers to go out and really explore the possibility of home ownership. I worked with many first-time buyers, and sharing their excitement of the realization of home ownership was a very rewarding experience. I felt like I made dreams come true. I drank more champagne with new home owners in 2010 than I have consumed in my entire lifetime!
My latest deal was a 1562-square-foot garden duplex at the Lineage Condos in Clinton Hill, Brooklyn.
What was the best meal you've ever eaten in New York?
I have eaten many good meals and the best meal I must say has been in my mother's house. But in terms of restaurants, my favorite Brooklyn spot is Chance on Smith Street. In Manhattan, Robert on Columbus Circle.
What was your first apartment like?
My first apartment was a share on South Pinehurst Street in Washington Heights. I lived in a great 1200-square-foot three bedroom apartment with maid's chamber, pantry, eat-in-kitchen and "space to die for" with amazing views of the George Washington Bridge. At that time I paid $200 a month for my portion of the rent. How sweet was that! If I could turn back time.
What is your recession war story?
I started my career in real estate during the beginning of the recession so I don't have a specific war story. But challenges in this market include managing the expectations of both the buyers and sellers and understanding the psychological factors that come into play and knowing how to manage those emotions and experiences. Other challenges include navigating through the ever-changing financial requirements of mortgage lenders.
How do you get around town?
My mode of transportation is an SUV. However, parking in New York is always a nightmare. Couple that with the extreme number of parking tickets I get on a monthly basis, and I must say… my a razor scooter is looking like a great alternative means of transportation!
What is your favorite building in the city and why?
I don't have one. New York City and Brooklyn have a plethora of amazing buildings that are unique to each neighborhood, period of time and architectural style.
If you weren't a broker, what would you be?
I would be a hostage negotiator. I have a way of working through many challenging and high-pressure situations. My goal is always making sure things turn out according to plan and for the best.
What is your dream home?
My dream home would be to build a villa in St. Maarten in the hill tops overlooking the island.

You just won the lottery. What store do you stop by and what do you buy?
Audi, here I come. I need a new luxury SVU to carry all my new hot fashions from Barney's, Saks and Garmany!!!

If there was one thing you could change about New York, what would it be?
Change the street parking rules to make parking more affordable and readily available.
Read last week's interview here. >>