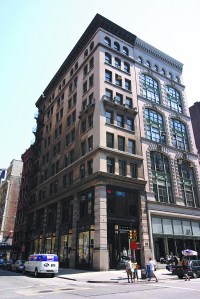 Even exquisitely uncomfortable pointy-toed dress shoes can't keep Michael Kors from practically any retail neighborhood in the city he so desires.
It reportedly took ages to lure the designer to check out Unago's former space on Madison Avenue for his New York City flagship. But once they got him through the door, the negotiations took only an hour.
Since then, the black-clad designer has taken over the 2,500-square-foot former Benetton space in the Flatiron district; a 1,475-square-foot store on Bleecker Street in Greenwich Village; and, just last month, a massive 7,500-square-foot chunk of the former Kenneth Cole store at Rockefeller Center.
Now the lovable, blue-eyed Project Runway judge, who's catapulted his realty TV fame into a rapidly growing retail empire, is on the hunt for two new locations, sources told The Commercial Observer. He's checking out the sizzling meatpacking district, as well as the eternally up-and-coming Financial District.
Sources say the two new stores will be around the same size as his existing locations, whose ground-floor space spans a wide range, from 1,500 to 4,500 square feet.
Michael Kors was represented in a previous deal by Richard Hodos and Stephen Sjurset of CB Richard Ellis. Mr. Sjurset declined to comment, saying he wanted to check with Michael Kors first, and they tend to be a little slow getting back. Apparently the mercurial fashionista doesn't always move so fast.
lkusisto@observer.com