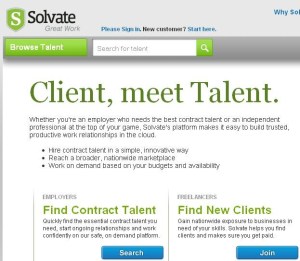 New York tech capital raise item! Today, we're treated to a $4 million Series B funding round for New York freelance outsourcing search directory Solvate. CEO Michael Paolucci is in on the fundraise, as are New York venture powerhouses RRE Ventures and DFJ Gotham.
Founded in 2007, Solvate offers a catalog of pre-screened freelance employees who work in a variety of industries. Mr. Paolucci has characterized his firm as follows:
We are becoming the intermediary between parties who are already related but don't have a clear path to work together. We've standardized the way to describe thousands of services people can perform, as well as a protocol for engagement between talent and clients for work. The mating ritual is governed by interfaces that make it safe, easy, and comfortable to work through the wire.
By the way, for those interested in the provenance of quirky tech names, a solvate is "a more or less loosely bonded complex formed between a solvent and a dissolved species," an appropriate enough metaphor for a scattered network of for-hire workers who dissolve their talents across a broad market, if you will.
mtaylor [at] observer.com | @mbrookstaylor