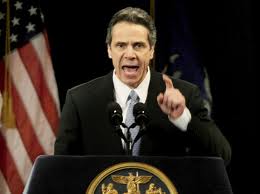 Wisconsin Assembly members passed the controversial bill this morning that would limit bargaining rights for public-sector unions. Predicting a nasty Senate fight in 3…2…1…
State Sen. John J. Flanagan has a bill that would make it easier to figure out which teachers to dismiss under a merit-based system.
American Federation of Teachers president Randi Weingarten concedes that sometimes, teachers' efficiency (or lack thereof) should be a factor in dismissals.
Port Authority's new transit hub carries a $3.44 billion price tag.
In reference to his ties with Medicaid Redesign Team member Jeff Sachs, Cuomo says he "follows the law." As opposed to breaking it?
Obama isn't breaking a sweat about the recent jump in energy prices.
New York City is looking to the private sector to scrape out more funding.
UFT's Michael Mulgrew said New York probably won't go the way of Wisconsin as far as union fights go.
Rep. Gary Ackerman's office is scrutinizing top SEC lawyers about profits they may have received from Madoff's scheme.
If you're a New Yorker in a same-sex marriage, you're in luck: you can now legally receive inheritance as a spouse.
Hospital association and healthcare workers' union officials, traditionally opponents of Medicaid cuts, have declared support for Cuomo's proposed cuts to the program. Maybe that's because representatives from the organizations served on Cuomo's task force for the issue?
Hakeem Jeffries expects Sheldon Silver to be a "partner" and help out with this whole independent redistricting thing.
More elected officials are using Craigslist– Rep. Anthony Weiner and City Councilman Julissa Ferreras want the city to use the site to sell a controversial statue to raise money. Because eBay is so last decade.
Fox News Chairman and onetime Nixon adviser Roger Ailes has been accused of encouraging an employee to lie to federal investigators in order to preserve the reputation of those associated with Giuliani's presidential campaign.
New Jersey's Robert Menendez may have out-fundraised even Chuck Schumer, but the Times says he's still vulnerable to whatever competition Chris Christie might find to throw at him in 2012.
The Monroe County Conservative Party is backing Corwin.
The Obama administration plans to take economic sanctions against Libya, beginning with a U.N. Security Council sanctions resolution that will be discussed in Britain today.
In weirder news, Rolling Stone reports that for four months in 2010, Lt. Gen. William Caldwell ordered some soldiers to use "psychological operations" to manipulate American lawmakers into giving more support to the war in Afghanistan.
And you thought Chris Lee's behavior was a little bizarre.
Nassau DA Kathleen Rice is dealing with the fallout from the crime lab debacle, unless someone else wants to take it on.