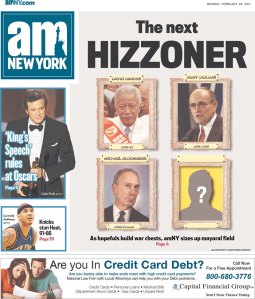 2013: Bill Thompson is the front-runner, says Erik Ortiz. [amNew York]
Member Items: Remember those? [Times Union]
Race: Assemblyman wants to collect more info from voters. [NY Post]
Supporting Wisconsin: Bloomberg says in op-ed, "We should no more try to take away the right of individuals to collectively bargain than we should try to take away the right to a secret ballot." [NY Times]
Supporting Wisconsin: "It's no different to me than watching democracy spread across the Middle East," says a teacher union boss.
Analyzing Unions: Public versus private sector salaries is a complicated comparison; education and size are major factors. [NY Times]
Health Care: Part-time workers in Albany get it for free. [Daily News]
Redesigning Medicaid: Will Silver sign off on Cuomo's plan? [Daily News]
Praising Cuomo: "Real change" in Albany, if Cuomo's health care cuts are approved.
Criticizing Cuomo: "Cuomo is determined to make a national name for himself as a fiscal conservative," says Juan Gonzalez.
Fearing Cuomo: "No one who cares about their political or legislative career wants to be seen as criticizing Andrew Cuomo." [NY Daily News]
Cuomo vs. Unions: Cuomo "timid" on structural reform; budgeting with "handcuffs," says E.J. McMahon. [NY Post]
Lobbying Cuomo: Group urges him to support public financing of campaigns. [WSJ]
Budgeting Cuomo: "by leaving so many of the cuts up in the air, Mr. Cuomo, intentionally or not, has kept some of his most potent likely opponents on the sidelines." [NY Times]
Millionaires Tax: "Will it happen? I don't think so," says Silver. [NY Post]
Teacher Layoffs: Bloomberg gets specific. [NY Post]
Teacher Layoffs: "Some schools will lose as many as 70% of their current teachers." Map included. [WSJ]
Teacher Layoffs: Assemblyman Jeffries says, "It's unlikely that we will simply sign off on a unilateral power grab by the mayor in the area of seniority without significant input and modification to the legislation."
Pedro Espada: Buy the co-op where he said he lived. [Daily News]
Tea Party: Their beef with Rep. Grimm can get smoothed over. [SI Advance]
'War on Women': House GOP targets abortion; editors ring the alarm [NY Times]
Bicycles: May need license plates, one day. [NY Post]
Transport: Sadik-Khan's plans for 34th Street should be probed by City Council. [NY Post]
Egypt: Hosni Mubarak "was entwined in the life of New York like almost no other foreign leader," says Jim Dwyer. [NY Times]
Wayne Barrett: " I have to get used to the idea that an editor like Tina Brown is going to have her own ideas about what I should be doing." [NY Times]