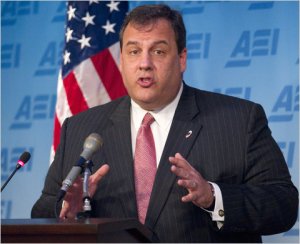 Chris Christie still says he's not running for president, saying "short of suicide, I don't really know what I'd have to do to convince you people that I'm not running."
Bloomberg's budget, which will be released today, will reportedly lay off almost 4,700 teachers.
City lawmakers in Albany will try to save senior centers.
The Times says that New Yorkers have a right to know when Mayor Bloomberg is out of town.
NYU Fellow Nir Rosen has resigned after putting his foot in his mouth re:Lara Logan via Twitter.
Chris Christie thinks Washington is ignoring the fiscal crisis, and he's not afraid who knows it.
Eric Schneiderman will demand prison time for Hank Morris.
Republicans and Democrats can't agree on what caused the 2008 financial crisis.
Bloomberg announced that he will donate $32 million to arts organizations. Could this help save Broadway?
Attention, American healthcare policymakers: Justin Bieber thinks your system is "evil," and Canada's is better.
Chris Christie, meanwhile, wants to take away from ineffective teachers' tenure, without eliminating it altogether.
Cy Vance is taking over the investigation into NARAL finances
Bloomberg doesn't think Madoff was all that bad. Oh, and he has advice for investors: "don't put all your eggs in one basket."
Newsflash: driving in New York is really obnoxious. Just ask Christine Quinn.
In a new memoir, Massachusetts Senator Scott Brown reveals experiences of past sexual abuse.
Rahm Emanual wants to find his Twitter impersonator really, really badly.
Under Obama's new budget plan, interest payments on the national debt will quadruple over the next decade. Gulp.
Obama is calling on Egypt to capture and prosecute the men who attacked Lara Logan.
Jimmy Vielkind takes a look at the Democrats efforts to field a viable candidate in NY-26
Looks like New Jersey's on board in the fight against the last in, first out teacher layoff policy: Chris Christie's education chief Chris Cerf yesterday called LIFO "one of the greatest flaws in our current system."
Charlie Rangel doesn't waste time: the freshly censured Congressman is already getting started on fundraising for his 2012 re-election campaign.
Staten Island DA Dan Donovan wants an investigation into the Working Families Party.
Glenn Beck is not a fan of Google.
We're sure Paterson got the memo that he's no longer governor, right?
Newsday speculates whether Sarah Palin might be a viable political candidate for 2012 after all.
Donald Trump is now pro-life– or so he says, after years of supporting abortion rights. Seems a little coincidental given his recent hints at a bid for the Republican presidential nomination, no?
Centrist House Republicans have broken with tea partiers calling for reduced domestic spending, and are working with Democrats to help restore some of the spending and reduce the deficit.
Cathie Black can't seem to catch a break.